COMMERCIAL MARINE 432
---
All the commercial marine news from Trade-a-Boat issue 432...
Super-quick Cup-chasing cat
America's Cup competitor Emirates Team New Zealand (ETNZ) has taken delivery of a power catamaran chase boat big and powerful enough to manage the on-water operations of its 22m, 40-knot sailing cat.
The new race format provided some unique challenges and requirements when it came time to look for support craft, as previous boats used for this purpose would not be sufficient.
Given the capabilities of the new AC72 yachts, the chase boat has to be nimble, stable and easy on the people who have to work on it.
The America's Cup protocol allows teams only 30 sailing days up to the end of January next year, making every day on the water precious and resulting in dawn-to-dusk testing. That also requires the chase boat to have the endurance to stay on station all day, while possessing the speed and stability to stay close to the cat in fresh winds and choppy seas.
ETNZ approached the challenge by designing a totally new craft in-house — in particular utilising US designers Morelli & Melvin, with input from Chris Salthouse from NZ's Salthouse Boat Builders, which launched the result in July.
As Pete Melvin summarised: "The purpose is a tender and chase boat for the AC72 catamarans. The speed and ride quality has to live up to the task of following an AC72 around for an entire day, at up to 40kts, without fatiguing the crew. The boat has to tow an AC72 at 25kts, and also be able to right an AC72 after a capsize. And it has to look great too.
"The scope was to conceive, design, and engineer the boat from A to Z. The concept was developed in collaboration with ETNZ and Salthouse Boats," he said.
Powered by four 300hp Yamaha F300B V6 four-stroke outboards, the 14m powercat has a range of 510nm at 30kts. It exceeds the required design speed of 50kts, achieving a top speed of 58kts on trials.
The fuel efficiency of the outboards delivers the required range, with the Yamahas consuming 25lt/h each at 30kts.
The cat's 14m by 4.8m fibreglass hull is topped with inflatable tubes allowing it to slip in beside the AC72. Accommodation includes a protected main deck cabin, head and large storage area under the foredeck. Another version has been developed that has a stateroom with sleeping accommodations under the foredeck in lieu of the storage area.
In the ETNZ role, the boat's 'passengers' include the sailing coaches, boatbuilders, sailmakers, riggers and onboard systems experts. For added comfort, suspension seats have been added to smooth the ride in rough conditions, a feature that has been especially well appreciated.
Salthouse reports that the success of the new design has not gone unnoticed, with the mould going straight back into use on a sister ship. This is being built for an overseas client.
Top photo: To keep pace with the AC72 sailcat, Emirates Team New Zealand has taken delivery of a powercat with a required design speed of 50kts.

ETNZ AC72 foiling in the Hauraki Gulf during testing.
Skipper asleep at the wheel as fishing boat grounds
The South Australian Department of Planning, Transport and Infrastructure (DPTI) has successfully prosecuted the captain of a fishing vessel that ran aground with a crew of five onboard after falling asleep at the wheel.
The 24m Christina S ran aground on a reef off Hopkins Island (southwest of Port Lincoln) around 3am on March 5, 2011, while on a commercial fishing trip in prevailing conditions.
Onboard was a crew of five and at the helm was Steven Sarunic, 46, from Queensland, formally of Port Lincoln.
There were no serious injuries and the vessel partially sank before being refloated by Sarunic. Attempts were made to tow it to shore before a call for help was made and the vessel was towed back. Damage was estimated at $100,000.
The Port Lincoln Magistrates Court heard Sarunic admitted falling asleep at the wheel. Sarunic was charged with operating a vessel without due care under Section 69 of the Harbours and Navigation Act.
In addition to his conviction, Sarunic was also fined $400, plus court costs of $302, his Certificate of Competency to operate a vessel was cancelled and he was disqualified for four months from obtaining a further certificate.
For further information, visit www.dpti.sa.gov.au/ondeck
Austal profit, but not in Australia
Austal achieved a modest profit of $11 million after tax and record revenue of $653 million for the past financial year, despite continued woes for its Australian shipyard.
Commenting on the company's performance, CEO Andrew Bellamy said: "While the growth in revenue and order backlog are pleasing, the bottom line result is certainly below our expectations.
"Importantly, Austal has identified where and how it can improve and is taking appropriate action. The second-half performance, which saw an $18.9 million turnaround from a first-half pre-tax operating loss of $6.3 million, shows those initiatives are working," he said.
The company said its results were adversely impacted by rapid growth and first-in-class issues at the US operation, sustained economic downturn in key markets and the strong Australian dollar.
In regard to local operation, Austal said it was unprofitable due to low activity levels "stemming from a sustained economic downturn in historically important commercial vessel markets; a strong local currency; and the scheduled low rate of initial production on the Cape Class Patrol Boat program".
The Cape Class project provides activity at the Australian shipyard through to September 2015 and Austal is using it to facilitate its strategy of refocusing its operations in WA towards the manufacture and support of defence vessels.
The company said it anticipates improved financial results for the Australian operation in 2012/13, with further improvement in the following year as Cape Class manufacturing activity ramps up.
Austal has moved its commercial vessel construction to a new shipyard in the Philippines, which Bellamy said had "enhanced its (Austal's) long-term competitiveness and profitability in... shipbuilding".
"Combining that manufacturing capability with the Austal's world-leading technology has already proved instrumental in securing contracts that the company could not otherwise have executed profitably," said Bellamy.

The 21m catamaran workboats were among the last commercial vessels to be built by Austal in Australia.
More wind-farm work for Incat Crowther
Sydney design firm Incat Crowther has continued its run of success in the European wind-farm market, signing a contract to design a 25m catamaran.
Being built in the UK, the workboat will feature a large forward cargo deck that caters for a single 20ft container or a pair of 10ft containers. Twenty-foot containers can be mounted longitudinally or transversely, allowing additional cargo to be carried as required. A deck crane is mounted at the forward end of the cargo deck.
A passenger cabin at the aft end of the main deck will house 12 technicians, with a galley, wet room, dive stores and bathroom. Four berths for crew are in the hulls.
Turbine docking is improved with the fitment of a concave fendering arrangement across the bow. As with many Incat Crowther wind-farm support vessels, this reinforced bow appendage is fitted in a bolt-on arrangement, allowing for quick and easy replacement.
The vessel will be powered by a pair of 970kW Caterpillar C32 ACERT engines and propelled by a pair of five-bladed propellers to give a fully loaded speed of 23kts.
The catamaran can maintain operation in seas of up to 2m and is classed to DNV's Windfarm Service Craft rules.

First rendering of a 25m workboat Sydney firm Incat Crowther will design for the European offshore wind-farm sector.
Queensland Police to get new cats
The Queensland Government has allocated $2.5 million in its recent State Budget to replace three Water Police catamarans in Cairns, Townsville and the Whitsundays.
The funding commitment will set the ball rolling for the acquisition of the three boats, which are set to be delivered in the 2013-14 financial year at a total cost of $13.7 million.
Police Minister Jack Dempsey said Cairns and Townsville would be the home ports for 22m aluminium police catamarans, while the Whitsundays would receive an 18m catamaran, also to be constructed from aluminium.
Dempsey said the new catamarans would allow police to patrol local waters "to ensure every member of the community remains safe while on the water".
According to the Minister, tasks for police on the catamarans would include marine safety infringements, search-and-rescue co-ordination, random breath testing and enforcement of fisheries legislation.
"The Newman Government is committed to ensuring police have enough resources and equipment in order to help them protect Queensland communities," said Dempsey.

Queensland Police already operates three 22m catamarans.
New small patrol boats for Torres Strait
A small patrol boat provided by the Australian Government was blessed in August, before commencing operations in the Torres Strait.
The Minister for Families, Community Services and Indigenous Affairs, Jenny Macklin, and Senator for Queensland, Jan McLucas, attended the event on Badu Island, and said the patrol boat will become part of one of the most technically sophisticated fleets in north Australia.
"Safety at sea is the highest priority and this patrol boat for Torres Strait Regional Authority (TSRA)
rangers, based on Badu Island, has been built to meet the highest marine survey standards in Australia," Macklin said. "It's one of seven patrol boats which will enable rangers to work in a safe environment with the latest technologies, managing resources across the Mura Badhulgau sea country."
The other boats will be based on Mabuiag, Moa, Boigu, Mer, Iama and Masig Islands.
The TSRA Chairperson, John "Toshie" Kris said the commissioning of the six-metre boats represented a big step forward in effective local management of sea and land resources in the Torres Strait.
"We have said for a long time we need to be properly resourced to effectively manage our environment and now the Rangers will be able to conduct a whole range of activities safely and effectively," said Kris.
"Without boats the Rangers have been restricted in the range and scope of activities they can carry out, but that is all about to change in coming months.
"Our Rangers will now be able to effectively conduct reef and seagrass monitoring as well as routine surveys of turtle and dugong feeding and breeding sites.
"They will also be able to travel to all islands in the Torres Strait to conduct routine weed, feral animal and fire control activities," he said.
According to Kris, the boat has been built to meet the highest marine survey standards in Australia. "The designers, builders and surveyors were all Maritime Safety Queensland accredited and we engaged an independent surveyor to ensure the highest standards were maintained throughout the whole project," he said.
"We then gave the masters and crews an opportunity to provide feedback on all aspects of the boats during sea trials and we have made some very minor modifications.
"Crew safety has been the highest priority in a very detailed process to get these boats onto the water and will remain the highest priority while they are used for Ranger operations," Kris said.
He added the standard of safety equipment on the boats was well in excess of standard maritime requirements.
"The boats have all been equipped with satellite telephones, HF and VHF radios," said Kris. "As well as the boat Emergency Position-lndicating Radio Beacons (EPlRBs), each individual crewmember will be required to carry a personal EPIRB."
The Masters of the Ranger boats will all be required to gain qualification as Coxswains for vessels up to 12m, while Ranger crew would be required to complete a one-week induction course on the boats.
"These boats will benefit all 15 inhabited islands in the Torres Strait, as they will be shared by the Rangers in all communities to meet operational requirements," Kris said.
The remaining vessels in the Land and Sea Ranger fleet will be rolled out to the other six island communities throughout 2012-13.

Queensland MP, Jenny Macklin, unveiling the first of seven patrol boats for the Torres Strait.
New marine rescue boat for The Entrance
Volunteers from Marine Rescue New South Wales (MRNSW)-The Entrance have marked the official commissioning of their new $120,000 rescue BOAT.
MRNSW deputy commissioner Heinz Mueller joined the local MP, unit commander Stewart Masters and volunteers at the event, where he commissioned the latest addition to the MRNSW fleet.
The Entrance 20 (TE 20), a highly-manoeuvrable 6.25m rigid hull inflatable boat was built by Cobia Boats at Huskisson on the NSW South Coast and is powered by twin 90hp Suzuki four-stroke outboard motors. It replaces the unit's 5.6m Shark Cat, built in 1985.
"As we head towards another peak summer boating period, TE 20 is sure to prove a valuable addition to our marine search-and-rescue capability in this incredibly popular boating area of the Central Coast," said Mueller.
"This is our first new rescue vessel commissioned this financial year, following our record investment of $2.5 million in 13 new and upgraded boats in 2011-12 as part of our ongoing program to modernise our rescue fleet.
"Volunteers from The Entrance have already put TE 20 to good use to assist a number of boaters and more unusually, to tow a seaplane forced to ditch in Tuggerah Lakes last month to safety at the Picnic Point boat ramp," he said.
Masters said the unit's crews had been carrying out intensive training on the new craft since its delivery. "The great benefits of this new vessel are its manoeuvrability and versatility," he said.
"Working as we do on the busy Lakes system to help not only our local boaters but also visitors who may not be familiar with the waterway, our crews also appreciate the boat's ability to enter shallow waters to provide assistance without the risk of grounding.
"She also provides our crews with more space to operate and new, more advanced electronic equipment, including radar, GPS-plotter and sounder, Automatic Identification System and VHF DCN and 27MHz radios, to assist in search-and-rescue operations," Masters added.
Mueller said TE 20 demonstrated the value of the ongoing funding support for MRNSW from the NSW Government and members of the boating community, who contribute through their boating licence and registration fees.
"The modern boats we are now commissioning to upgrade our fleet of 74 accredited vessels are delivering tremendous benefits to both volunteers and boating community," said Mueller. "These boats represent major advances in power, safety, handling, technology and speed of response."

MRNSW volunteers at The Entrance try out their new rescue boat.
Wärtsilä to power four new diesel-electric tugs for Australia
Wärtsilä has been contracted to supply the power system for four new diesel-electric tugs being built for Svitzer Australia. The contract was signed in April but the buyer was not named at the time. The vessels are being constructed at ASL shipyard in Singapore and due to enter operation by early 2014.
Each of the four 80-ton bollard pull harbour tugs will be fitted with two nine-cylinder (pictured below) and one eight-cylinder inline Wärtsilä 20 engines. The use of the Wärtsilä 20 as diesel-electric gensets is a new development in the tug market.
The engines operate on marine gas oil and are equipped with batteries allowing power from the Wärtsilä gensets to be stored for later use.
"Modern tugs need to feature both fuel efficiency and environmental sustainability, as well as lifecycle reliability," said Aaron Bresnahan, Wärtsilä Ship Power Specials.
"This contract represents further evidence of Wärtsilä's strength in meeting these demands, and further emphasises our ability to offer sophisticated diesel-electric machinery solutions for this particular sector of the marine industry.
"By selecting Wärtsilä 20 engines, the owner will benefit from their robustness and reliability, which has been proven by the fact that more than 4000 of the engines have been delivered since this model was introduced to the market in the early 1990s," he said.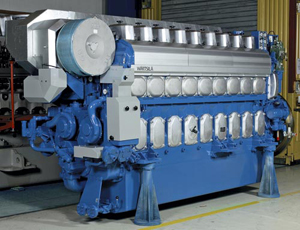 SPY Radar Arrays arrive in Adelaide
The first two state-of-the-art SPY radar array faces to be installed on the Air Warfare Destroyers (AWDs) have arrived in Adelaide.
The AN/SPY-1D(V) phased array radar will provide the Hobart Class destroyers with comprehensive surveillance around the ship.
The SPY radar is the main sensor for the Aegis Weapon System and is recognisable by four octagonal-shaped array faces that are located on the superstructure of the ship.
The four array faces send out beams of electromagnetic energy in all directions, providing a continuous search and tracking capability for hundreds of targets.
The SPY radar, combined with the SPQ-9B horizon search radar, will ensure each of the AWDs go into service with state-of-the-art surveillance packages.
L-3 WESCAM Imaging Turrets for Customs boats
L-3 WESCAM has received an order from Austal for 10 shipborne versions of the MX-10 electro-optical/infrared (EO/IR) imaging system, which will be fitted to new patrol boats being built for the Australian Customs and Border Protection Service.
Deliveries will be made in 2012 and 2013 in support of the Cape Class Patrol Boat (pictured below) platform introduction into service scheduled for early 2013. Installation of the turrets will be managed by Austal, whereas support services to the program will be completed at L-3 WESCAM's authorised service centre in Cairns.
The MX-10 shipborne turrets will be used to conduct surveillance duties such as border incursions, illegal immigration and fishing, smuggling and quarantine control.
"We are proud to continue our relationship with the Australian Customs and Border Protection Service, as we currently support their Coastwatch system with our MX-15 on the DASH-8 airborne platform," said Paul Jennison, L-3 WESCAM vice president of government sales and business development. "This award demonstrates confidence in our capabilities for their marine mission aboard the Cape Class Patrol Boat."
"L-3 WESCAM's system was selected after an extensive consultation between Austal and Customs and Border Protection, which uses an airborne variant on their patrol aircraft," said Richard Liley, Austal's Cape Class Patrol Boat program manager. "This new system promises a higher level of features and capability than is commonly found on patrol boats."
The MX-10 system can incorporate up to six payloads. Infrared, colour and electron-multiplied imaging sensors can be combined with a laser rangefinder and illuminator for enhanced mission performance. Real-time image enhancement is accomplished simultaneously across all sensors, including haze penetration and imaging blending — both of which lead to improved target detection and recognition.
Shipping Fairways off the North West Coast
The Australian Maritime Safety Authority (AMSA) has established a network of Shipping Fairways (pdf pictured below) off the North West Coast of Australia.
The new Shipping Fairways aim to reduce the risk of collision between transiting vessels and offshore infrastructure. The fairways are intended to direct large vessels such as bulk carriers and LNG ships trading to the major ports into predefined routes to keep them clear of existing and planned offshore infrastructure. A collision in this area could potentially result in significant loss of life and environmental harm.
The new Shipping Fairways are similar to the existing Dampier Shipping Fairway, which was charted in 2007. It has proven to be successful in keeping shipping traffic away from offshore infrastructure. Such separation is effective in other parts of the world, particularly in the Gulf of Mexico.
Use of the new fairways is strongly recommended but not mandatory. The International Regulations for Preventing Collisions at Sea 1972 apply to all vessels navigating within or outside the Shipping Fairways. The use of these fairways does not give vessels any special right of way.
The Australian Hydrographic Service (AHS) will incorporate the new fairways in the relevant Electronic Navigational Charts and new editions of paper charts. These will be available progressively from August 2012 onwards. The AHS will advise by Notices to Mariners when these charts will be available from chart agents.
AMI and Kelvin Hughes expand co-operation in South East Asia
Perth-headquartered AMI and leading marine electronics manufacturer Kelvin Hughes have agreed terms to expand their areas of co-operation in South East Asia.
Spike Hughes, the sales and marketing director at Kelvin Hughes praised AMI for enabling Kelvin Hughes to become the pre-eminent supplier of navigational equipment in the commercial marine market in Australia in a successful association which has spanned more than 22 years.
"We value AMI's loyalty, enthusiasm and expertise and are keen to not only grow our business with them in Australia but also extend it throughout the rest of South East Asia including Singapore," said Hughes. "This deal will provide AMI's excellent service to all our customers in the region."
Kelvin Hughes said that it had grown a sizeable market in Australia for all types of craft, from high-speed ferries to megayachts and patrol vessels, through its co-operation with AMI.
"We believe that AMI is uniquely placed to service our customers with offices in, or close to, all the main ports in Australia. The agreement today will see us build on this successful base as both companies benefit by working more closely together in South East Asia," Hughes said.
Jim Fraser MD of AMI added: "All HSC fast-ferries that are now being built in Australia feature Kelvin Hughes radars; an accolade which speaks for itself. We have a longstanding relationship and are very pleased to see that… because of our performance the company has agreed that we expand our operations into the whole of South East Asia."
From Trade-a-Boat Issue 432, Oct-Nov 2012.

---
Want the latest stories delivered straight to your inbox? Sign up for the free TradeBoats e-newsletter.