BUYER'S GUIDE - Production Gameboats
---
Gameboats of Oz
Bertram, Cabo, Caribbean, Maritimo and Riviera have, and still are, some of the most popular production gameboats on Australian waters. Trade-a-Boat has trawled the marketplace selecting the best fish-fightning machines of the last 20 years from these esteemed marques.

BERTRAM
Bertram as a brand is the yardstick by which all other production sportsfishing boats are measured. Founded in 1960 the first production Bertram, a 31, was christened by Pauline 'Moppie' Bertram at the New York National Boat Show in 1961. Synonymous with the deep-vee hull, this all-American stable comes as close as a boatbuilding company can to truly being a household name.
Has any other single company caught more fish around the globe? We doubt it.
Bertram 35


Reviewed by: Jeff Strang
What we say: No compilation of classic sportsfishers could be complete without a reference to the remarkable Bertram 35. First launched in 1967 the pint-sized Bertie could be considered the Mini Cooper of the gameboat world. Travel to any port anywhere and you see examples of the ultimate little battler restored to their former glory, still out keeping the big guys honest.
Unfortunately Trade-a-Boat has never officially tested a Bertram 35, but we run an excellent rebuild story on one in February of this year. Author, Glen Booth, had this to say: "Whether a Bertram or of the locally built Caribbean lineage, the 35 is a real multi-tasker, which is why examples of any vintage remain in such demand. They have plenty of room for family weekends or weeks away, but once all the inflatable water toys, folding chairs and the barbecue have been packed away, they morph back into hard-charging thoroughbred gamefishers once again."
(QuickSpecs)
BERTRAM 35 (rebuild)
Purchase price: $145,000
Restoration cost: Approx $140,000
Material: Fibreglass
Type: Deep-vee monohull
Length: 10.67m
Beam: 4.03m
Fuel: 1350lt
Water: 400lt
Engine: 2 x Volvo Penta D6-330 turbo-diesel
Rated HP: 330 (each) at 3500rpm (max)
Displacement: 5.5lt (each)
Bertram 570 Convertible


Reviewed by: David Granville (August 2005)
What we said: The Bertram 570 is pretty typical of today's US-built convertibles: big and fast! While for many boaties, fuel economy and reliability are probably higher up the list than top speed, there is nothing better than going fast — and going fast in a big boat takes the feeling of exhilaration to a whole new level.
I've been in very few boats that can cruise at 30kts off Australia's East Coast, but during my short stint behind the wheel of the Bertram 570, I was extremely impressed with how soft and how dry the ride was. There is no substitute for weight and waterline length when it comes to ride, and the Bertram 570 is a good case in point.
Pushing 34 tonnes, with a big deep-vee, this boat is not going to spin like a pocket sportsfisher with a flat aft section. You buy a 57-footer for its ride in forward not its agility in reverse.
It's very difficult to review a boat like this in a day. You really need to cruise for a week on the Barrier Reef (hint hint) to truly discover what a boat like this can do. That said, the short time I spent on the Bertram 570 had me impressed. It's a big boat with a price tag to match — but if you're at a stage in your life where you want the best but are not prepared to wait for a custom boat to be built, then the latest offerings from Bertram may be the answer.
(QuickSpecs)
BERTRAM 570 CONVERTIBLE
Price as tested: $2.6 million
Material: Solid FRP bottom with cored hullsides and composite bulkheads
Type: Deep-vee monohull
Length: 18.46m
Beam: 5.1m
Draft: 1.59m
Weight: 34,500kg
Fuel: 5670lt
Water: 948lt
Engine: 2 x Caterpillar C30 turbo-diesel
Rated HP: 1550 (each)
Displacement (ea): 30lt (each)
Bertram 700 Enclosed


Reviewed by: David Lockwood (January 2009)
What we said: There are some things in life that beggar description. Take the Bertram 700 Enclosed with twin 2000hp MTU 16V 2000 M91 V16 electronic diesel engines and twin turbocharging. You really need to experience 38.3kts to appreciate what Bertram is all about. And thanks to the continuously rated MTU engines, you can sit on top speed all day and in so doing, access new destinations in the blink of an eye.
But it's not just how fast this 52-tonne boat travels that leaves you speechless. It's the motion through the water. Fast, relatively heavy, and with plenty of deep-vee the big Bertram cleaves the waves and throws the spray away with a degree of arrogance and disdain.
Bertram is all about reeling in the sea miles in great comfort and as little time as possible, which gets back to speed and hull shape. And the only way you can reduce the tyranny of distance is to have a boat built for the job. The re-entry on the Bertram 700 Enclosed is accompanied by a sumptuous swoosh rather than a cattle-class crash.
Compared with the traditional Raymond C. Hunt deep-vee hulls used by Bertram in the past, the Ferretti-designed 700 hull has a relatively moderate 12.5 degrees of deadrise. This assists with getting the big boat out of the water. Yet it's so well designed the bow appears only too willing to cleave the water.
There are new soft chines to quieten the ride and the point of entry and exit for spray is well aft of the flybridge, so the 700 Enclosed is an especially dry boat. And the ride from the mezzanine seats at top speed was nothing short of electrifying, with this boat feeling like a real rocket ship.
A heavyweight that punches well above its weight, the Bertram leaves you redefining your notions about offshore travel. The boat we tested has now been shipped to the West Coast where, interestingly, local boaters just love their big flybridge boats. The rough West Coast, what with constant wind and swell rolling in from afar, is a perfect home for the 700 Enclosed, a boat set-up more for coastal cruising and liveaboard boating, as well as reeling in fish and diving.
You pay for the privilege of a ride like this. The new Bertram 700 Enclosed will set you back $5.9 million. But if you want to break the time, distance and speed barriers, here's the badge.
(QuickSpecs)
Bertram 700 Enclosed
Price as tested: Approx $5.9 million
Material: GRP w/ foam-cored vacuum-bagged decks, superstructure and hull sides
Type: Modified-vee planing monhull
Length overall: 22.6m
Beam: 5.7m
Draft: 1.82m
Weight: Approx 52,800kg (loaded)
Fuel: 7600lt
Water: 1323lt
Engine: 2 x MTU 16V 2000 M91 turbo-diesels
Rated HP: 2000 (each) at 2350rpm
Displacement: 31.9lt
CABO YACHTS
Compared to your run-of-the-mill production flybridge cruiser, the five Cabos this magazine has tested have all performed like giant killers where it matters most, at sea. This means a lot to gamefishers and serious offshore cruising types, who often find themselves in less-than-ideal weather.
When pushed into the awful test conditions, the 43 performed more like a mid-50-footer, and the 52, well the review on page 56 of this issue says it all. This North Carolina-based specialist only builds sportsfishing boats, and its go-hard-or-go-home philosophy has endeared the brand to those for whom anything less than uncompromising performance is not an option.
Cabo 38 Flybridge


Reviewed by: David Lockwood (August 2010)
What we said: There's nothing covert about Cabos, nothing left to chance, nothing that requires second guessing. Clearly these are muscle boats built for serious fishing. It shows with their handling, the way they charge into the fray and back-down with alacrity, as well as the stunning engineering below decks. Then comes the great spread of inbuilt fishing features back up top.
But the American yard's 38 Flybridge featured here will sate the single-minded pursuit of catching fish, while also appeasing fishwives and small fry. The boat, you see, is accommodating not compromising. And it proves that good design need not preclude anyone from the pleasureboating.
That said, we were here to see if the boats reputation for blistering pace at sea was justified. With the upgraded twin 705hp C12 engines the 38's top speed was 36.5kts on the day, with a 30kts cruise at 2000rpm, giving a range of just over 300nm. Pull the throttles back to 1600rpm and about 22 to 23kts and the range rises to 330nm. So anywhere from 23 to 30kts is efficient offshore.
At the same time, off-the-wheel handling was rousing, with the Cabo responding eagerly and banking in the turns without burying its bow. Clearly, with the engines and shafts a good way apart, the boat has a tighter turning circle than some. Reversing proved she was similarly eager to go, whichever way the fish dictate.
It's in the open ocean that Cabo's hull-and-engine pairings shine brightest. Aficionados will appreciate the great performance and the 38 is a big little boat that punches well above its weight. Wherever you look, the fabulous build quality is evident. But we reckon the 38 is also a smart family boat and floating weekender. Contest the big tournament, explore new ports of call, and travel fast offshore in five-star comfort.
(QuickSpecs)
CABO 38 FLYBRIDGE
Price as tested: $925,000
Material: GRP fibreglass w/ foam-cored hull sides
Type: Hard-chine variable deadrise planing hull
Length overall: 12.2m
Beam: 4.53m
Draft: 1.3m (max.)
Weight: Approx 12,701kg (dry w/ standard engine)
Fuel: 1800lt
Water: 360lt
Engine: 2 x Caterpillar C12 turbo-diesel
Rated HP: 705 at 2300rpm
Displacement: 12lt
Cabo 43 Flybridge Sportsfisher


Reviewed by: David Lockwood (November 2006)
What we said: The rank and file of boating always includes a healthy number of sentimental salties, who, unwilling to let go of the past, embrace the classic boats of yore. Thank heavens someone is keeping the old girls alive, but tradition can be an anchor and, while we can learn from the past, it can't compete with the present or future.
So it is with the made-for-the-rough-stuff Cabo 43, which redefines notions of offshore travel. With ever-bigger but lighter motors — twin 700hp C12 CATs in this case — and the latest technology, you have a boat that leaves the old clunkers lolling in its wake.
The fishing intent of the Cabo 43 is revealed in things like the twin oversized 1.5m subfloor fish lockers, the livebait tank in the transom, the generous marlin door, the padded coamings, and thigh-height gunwales that trace a big cockpit. You could swing a gamechair, add outriggers, or use the floor space to hang-out at anchor. This is a beamy boat.
The offset saloon door results in a huge portside bait and tackle prep area, with fridge-freezer, sink and cutting boards. There are storage hatches and tackle drawers, sidepockets with racks and seats out of the sun. The Perspex vains in the gunwales to deflect water are a nice touch.
With 25kts of offshore wind you would think the ocean would be calm close to the headlands. Nope. There was a messy swell pushing against the wind, potholes and wave faces wherever you looked. I have seen this kind of sea before and prepared myself for a physical assault or at least, some decent lashings of spray. Surprise surprise.
The Cabo 43 was smooth, dry, powerful, and dictatorial. The spacing between the motors also makes for a manoeuvrable boat on the pegs. Steering is effortless and exact. Basically, the boat is geared for the driver, the ride and the crew.
For me, the Cabo 43 redefined my idea of comfortable offshore cruising.
(QuickSpecs)
CABO 43 FLYBRIDGE SPORTSFISHER
Price as tested: $1.45 million
Material: GRP fibreglass with foam-cored hull sides and decks, superstructure and hull sides
Type: Hard-chine variable deadrise planing hull
Length overall: 13.94m
Beam: 4.53m
Draft: 1.3m (max)
Weight: Approx 15,196kg (dry w/ standard engine)

Fuel:
2653lt
Water: 379lt

Engine: 2 x Caterpillar C12 turbo-diesel
Rated HP: 700 at 2300rpm
Displacement: 12lt

CARIBBEAN
Founded on the if-it-ain't-broke-don't-fix-it principle, Caribbeans deliver very few unpleasant surprises, which means buyers are also comfortable jumping aboard.
The International Marine story began in 1958 when Arch Spooner built his inaugural boat in the Melbourne suburb of Scorseby. In his first year, Arch and his six employees trotted out 85 boats using the then radical material called Glass Reinforced Plastic (GRP).
Over the ensuing 50 years, through fair weather and foul economies, the iconic Australian marine business has built and sold more than 50,000 boats. These days, demand for its evergreen flybridge cruisers from 24 to 49 feet continues unabated. And, incredibly, the boatbuilder is still run by the same family.
Caribbean 27 Flybridge Sportsfisherman


Reviewed by: David Lockwood (June 2009)
What we said: The new Caribbean 27 FBSF merely expands on a very successful theme set by its predecessor, the Caribbean 26 FBSF. You get twin engines — 220hp V6 4.3 MPI petrol MerCruisers with Alpha One sterndrive legs — for 34kts top speed instead of the twin 175s, 190s and 210s originally fitted to the early 26s (220hp engines were standard later on). Twin 150hp Cummins MerCruiser diesel engines are optional on the 27, but you pay a premium of almost $40,000, which I'm sure you agree buys an awful lot of unleaded.
Cruising at 3200rpm produced 21 to 22kts and a dignified drive, while fast cruise of 25 to 26kts was clocked at 4000rpm. Offshore we pulled back the throttles for about 18kts and the boat rode really well into the short, sharp swell. It remained dry, too.
With a non-trailerable 3.21m beam there's a lot more floor space and headroom for hanging out or hardcore fishing on the new 27 compared with the 26. The flybridge gains in stature, too, with L-shaped seating for mum and dad and now, a couple of kids as well.
After the weekend, afternoon clean-up shouldn't take more than an hour. That's another advantage of a no-frills affordable Caribbean over a flash import. There's not too much that can go wrong and the would-be skipper can take comfort from the fact the boatbuilder has been around more than 50 years, with the Spooner family building Caribbeans to satisfy enduring Australian values.
(QuickSpecs)
CARIBBEAN 27 FLYBRIDGE SPORTS FISHERMAN
Price as tested: $152,000
Material: Handlaid GRP hull
Type: Hard-chine deep-vee monohull
Length overall: 8.23m
Beam: 3.21m
Weight: 3100kg (dry)
Draft: Approx 0.5m
Fuel: 550lt
Water: 160lt
Engine: 2 x MerCruiser 4.3 MPI petrol inboard
Rated HP: 220 at 4400 to 4800rpm (max)
Caribbean 35 Mk III


Reviewed by: David Lockwood (October 2010)
What we said: The new Caribbean 35 has (wet) track form, more sea miles under its hull than any other Australian-made cruiser, and almost 40 years of continual production history. Of course, the boat began life as the Bertram 35. International Marine made that boat under licence from 1971 to 1986. But Mk I had a fine entry and a lot of flare in the hull topsides for lift. From 1986 to 2010, Mk II reigned. The hull lost its flare and had a fuller bow for more buoyancy. And it gained a second portside cabin.
With a typical load of three-quarter fuel and full water, though nothing by way of owner equipment and provisions or gear, the Caribbean 35 Mk III held a smooth cruise at 2000rpm of 18 to 19kts across the lumpy 1.5m sea and swell. The vessel's top speed of 29 to 30kts is on par with market expectations for a flybridge cruiser, though it's more like 28kts by the time you put all the gear aboard. Offshore, the 35 hull proved efficient and seaworthy in the confused seas.
Its drive-away price of $500,000 has assured the Caribbean 35 remains one of the most popular cruisers of all time. The boat has that time-proven quality and buyers know they are getting sweet performance and very good resale value. For serious fishers, the big cockpit and manoeuvrability count for plenty, too. However, the 35 is increasingly attracting families who covet living space, comforts and a high-quality finish.
(QuickSpecs)
CARIBBEAN 35 FLYBRIDGE MK III
Price as tested: $500,950
Material: Handlaid fibreglass
Type: Monohull
Length Overall: 10.67m
Beam: 4.03m
Draft: 0.09m
Weight: 8500kg (dry)
Fuel: 1350lt
Water: 405lt
Engine: 2 x Cummins QSB330 turbo-diesel
Rated HP: 330 at 2800rpm
Displacement: 5.9lt
Caribbean 49


Reviewed by: David Lockwood
What we said: The flagship of the Caribbean range, the 49, follows in the footsteps and footprint of her predecessor the 47 upon which she is modelled. Only the hull and cockpit have been extended.
The supersized cockpit — at 170ft² or 15.8m² it's the largest on any boat in her class, boasts Caribbean — as such will appeal to the WA boating set. Hardly surprising, then, that the first three 49s have headed west.
Meantime, the increased waterline length, as well as lower shaft angles than the 47, has also led to performance gains from the modest 715hp Caterpillar C12 engines. Simply, there is more lift and buoyancy, with the boat planing quicker and willingly at just 12kts.
She cruises smoothly all the way up to her not insignificant top speed of 31.7kts. And without calling on trim tabs, the boat seems to travel rather flat. Our test day was wild and woolly, plenty of spray was tossed about, but there wasn't a hard thump to worry us.
Compared with the other two big Australians, Riviera and Maritimo, the Caribbean is somewhat shorter on luxury, frills and flash finish. But what you get with the 49 is in some ways an even more capable cruiser, with greater standard fuel and water storage, bigger fridges and more useable outdoor space. International Marine plays a very safe game, sticks to its guns and builds timeless cruisers.
(QuickSpecs)
CARIBBEAN 49
Price as tested: $1,068,470
Material: Handlaid GRP hull and deck
Type: Monohull
Length overall: 14.77m
Beam: 4.88m
Draft: Approx 1.37m
Weight: 20,500kg (dry)
Fuel: 2700lt
Water: 900lt
Engine: 2 x Caterpillar C12 turbo-diesels
Rated HP: 700 at 2300rpm (max)
Displacement: 12lt
MARITIMO
Bill Barry-Cotter has built more flybridge cruisers than anyone else in this country and maybe beyond. While it is a stretch to call either of the following boats classics — the brand just hasn't been around long enough — the man's proven history of success in this market assured the stable's place in this guide.
To our eye Maritimo builds some of the prettiest production gameboats afloat; and, having spoken firsthand to a couple of professionals plying their trade aboard Maritimo Offshore Convertibles, the boats catch fish!
Maritimo 440 Offshore Convertible


Reviewed by: David Lockwood (October 2010)
What we said: The 440 Offshore Convertible is no one-trick pony. A lot is bundled into the boat, including many of the signature features that have made bigger shaftdriven sister ships so popular. Yet it manages this in a smaller, more manoeuvrable and affordable package. For this reason the boat should appeal to a younger demographic, as well as those downsizing, and/or constrained by today's diminishing berthing space.
In the good old Australian way, outdoor pursuits are catered for by a broad cockpit and generous walkaround decks, yet the boundary between indoor living is less defined — intentionally blurred, actually — thanks to trifold saloon doors. At which point, the aft galley takes centre stage, before you note the internal stairwell leading to what is, by any measure, a big flying bridge up top. More than just a helm station, it's enclosed on three sides and loaded with amenities so as to double as another all-weather entertaining room.
Twin high-backed his-and-(optional)her helm chairs sit before a well-appointed dash including a suite of Simrad 12in electronic displays with broadband radar and Google Earth overlay on the chart. There's a 7in colour Volvo Penta digital engine-display in place of analogue gauges, electric trim tabs, EVC controls and, of course, the joystick that makes docking and decamping child's play.
Top speed was 30.5kts on the day for 165lt/h, cruise at 3000rpm gave 23.5kts for 118lt/h and 2750rpm returned 20.2kts for 100lt/h, which is a fine effort for this amount of boat. The official sea-trial figures suggest slightly better numbers and point to a handy 380nm range at 22.6kts — a nice comfy cruising clip on the wide blue yonder — based on the full 1800lt fuel load.
Think of the 440 Offshore Convertible as a bolter instead of a packhorse — lively and exciting, even youthful in keeping with most new-age IPS-powered cruisers. Providing you keep the pod drives and props clean, and the boat isn't overloaded, it's bound to provide years of nimble and efficient coastal cruising.
(QuickSpecs)
MARITIMO 440 OFFSHORE CONVERTIBLE IPS
Price as tested: $964,161
Material: Solid fibreglass bottom w/ cored topsides
Type: Variable deadrise deep-vee monohull
Length overall: 14.8m
Beam: 4.68m
Draft: 1.1m
Weight: 14,500kg (dry)
Fuel: 1800lt
Water: 400lt
Holding Tank: 300lt
Engine: 2 x Volvo Penta IPS 600 turbo-diesel
Rated HP: 435 (each)
Maritimo 470 Offshore Convertible


Reviewed by: David Lockwood (July 2010)
What we said: Boats are like the opposite sex. Some you hit it off with, some you don't. The Maritimo 470 Offshore Convertible is bound to be a loving partner. You slip behind the wheel, enjoy clear views fore and aft, turn the keys and engage the throttles that fall to hand. The addition of (standard) bow and (optional) stern thrusters gives you the manoeuvrability of a pod drive. The Volvo Penta D11s, meanwhile, are nice and smooth, with noise levels best described as par for the cruising course.
Add the race-bred power steering that lets you rip the boat around off the wheel and put it back up on an even keel with the flick of a wrist and you have a 47 that delivers driving pleasure. But more than that, the 470 Offshore Convertible is a boat with which you instinctively bond. It's also not overwhelming, big enough to bridge the troughs, and remarkably dry since Maritimo altered its trim angles about a year ago.
With half fuel and full water, top speed was 32.8kts according to the official figures. But at 1500rpm and 18kts you get a near-500nm range using 5.47lt/nm or 99lt/h. That's frugal and underscores the broad efficiency of Barry-Cotter's variable-deadrise shaft-driven hulls. Unlike deep-vees, they perform across a wide rev range.
For me Maritimo's 470 Offshore Convertible presses the buttons. It's got signature engineering, a slippery hull, great efficiency, and it can be configured for cruising, fishing or a mix of both. At the same time, the price is right in a clever way. Rather than load-up the boat with options and price it high, the yard has pared back the extras to deliver more.
Beyond all this, there's the wow factor. Prospective buyers will walk aboard and be impressed by the ease of access to the big enclosed flying bridge, the high backed and comfortable saloon lounges, and the stateroom with panorama window and en suite. Finally, there's the backing of Maritimo, a marque on the march investing heavily in pleasureboating's future. Plenty will jump aboard the wagon.
(QuickSpecs)
MARITIMO 470 OFFSHORE CONVERTIBLE
Price as tested: $1,083,235
Material: GRP fibreglass w/ cored decks, superstructure and hull sides
Type: Hard chine variable-deadrise planing hull
Length overall: 16.5m
Beam: 5.2m
Draft: 1.2m (max)
Weight: Approx 19t (dry w/ standard engines)
Fuel: 3000lt
Water: 400lt
Holding Tank: 300lt
Engine: 2 x Volvo Penta D11 turbo-diesel
Rated HP: 670 (each)
RIVIERA
When Capt Bob Jones heads out to sea, people pay for the ride. With decades of experience and a history of successful gameboats to his name, the good-natured skipper knows the secrets of successful big gamefishing.
Yet he will tell you the greatest comfort came in 1994, when he approached Riviera about making a better fishing boat. What Jones did was to modify the company's boats for liveaboard charter fishing. This involved making sweeping changes to the refrigeration and water system, and ensuring there was plenty of space for both long-term crew and clients.
Many attribute the 48 Flybridge as being the benchmark boat that changed the way Australian's viewed production gamefishing vessels. Suddenly a high-speed, highly capable, liveaboad sportsfisher was available at an achievable price. No other recreational vessel would have completed more sea miles in this part of the world than the Riviera 48 and the 43 can't be far behind.
The 48 Offshore Express came after the Bobby Jones era and is still in production. Even so Jones' influence can be seen all over this ultra-manoeuvrable fish weapon. It may not yet be a classic but omitting this vessel from a gamefishing spread would be heresy.
Riviera 43 Pro Tournament
Reviewed by: David Lockwood (December 1999)
What we said: Beginning with a Riviera 48, moving to a 36- and 40-foot canyon runner, Riviera has now applied Jones' know-how with its production-building nous to produce what it sees as the ideal liveaboard 43-footer.
While the 48 is perfect for Cairns, with plenty of accommodation, they're a little big to compete with on light tackle, Jones states, confirming his belief the 43 Pro Tournament will be more competitive to run. In addition, the 48 weighs more than 20 tonnes done-up as a full battlewagon, but the 43 Pro Tournament comes in at just 16 or so.
With twin 610hp Volvo Pentas fitted to massive 1.7:1 gearboxes, the 43 doesn't take long to find its way to the grounds.
Sadly, however, conditions weren't exactly suitable for fishing during our fly-by test. The Gold Coast Seaway had four-metre swells breaking across its entrance, so we merely shot up and down the passages and talked about what could be. Around 1800rpm produced the desired 21.8kts cruise speed, while 28.5kts was registered flat-out.
And don't take it from me that Rivieras have fish-raising capabilities. Turn to Jones. The biggest fish he has weighed from a Riviera was a 1046-pounder and Diamond Girl was the top boat last year in Cairns. "There's no worries about them catching fish," he opined.
"The old story was that you could always make a fishing boat into a pleasure boat, but not the reverse. But not anymore. This is both. If the average guy wants a boat to go fishing and keep the wife happy, well, we're going to kill that market. That's what we're after," Jones explained.
(QuickSpecs)
RIVIERA 43 PRO TOURNAMENT
Price as tested: $931,182
Material: GRP
Type: Moderate-to-deep vee mono
Length: 13.15m
Beam: 4.7m
Draft: 1.3m
Weight: Approx 16,000kg
Fuel: 2200lt
Water: 620lt
Engine: 2 x Volvo Penta TAMD 122P EDC turbo-diesel
Rated HP: 610 (each)
Riviera 48 Flybridge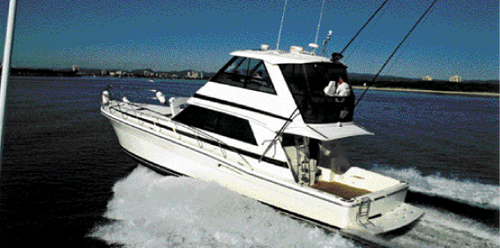 Reviewed by: David Lockwood (September 1998)
What we said: "It's unbelievable how quick and how awesome it is to drive. The MANs are very quiet, exhaust noise is minimal and the hardtop is just great with air-conditioning... I've never been on something this big that goes so fast."
Flick the throttles forward and the 22-tonne boat jumps. We're talking a top speed of more than 33kts and about 6kts at idle, where the V8 engines run on just one bank apiece. Thus, it would take just a few hours of fast cruising, chin-wagging and eyeballing the coastline and you'd be in Port Stephens.
There you'd find an ideal anchorage and swing the Avon RIB duckie off the deck using the big Brower davit. Do a picnic ashore or maybe dine on the yellowfin tuna you landed off Swansea on the way up. Then share the sunset with an aft-deck barbie and some bangers.
Heck, you could even leave your run back to the office till the eleventh hour on Monday. The 48 has a dedicated laundry with a washer/drier. No-one will know you're wearing the same shirt as when you downed tools and raced out at 4pm on Friday.
(QuickSpecs)
RIVIERA??48 FLYBRIDGE
Price as tested: $1,035,769
Material: GRP
Type: Moderate-vee mono
Length: 15m
Beam: 5m
Draft: 1.1m
Weight: 22,000kg
Fuel: 2550lt
Water: 863lt
Engine: 2 x MAN D2848LE403 turbo-diesel
Rated HP: 800 (each)
Riviera 48 Offshore Express


Reviewed by: Jeff Strang (January 2011)
What we said: The Riviera 48 Offshore Express looks stunning and performs like a Porsche 911 set-up to hunt elephants. Not very PC we know, but you get the picture. It's a boy's boat in most respects and its ability to wander the Pacific almost at will in search of the gamefish mother-load means you will never be short of a few mates chomping at the bit to come on the next adventure.
Sure, most hard-core enthusiasts would probably add a few minor bits and pieces to suit their own exacting requirements, but this vessel comes as close as we have ever experienced to the production boat to buy with an open cheque book.
This Riviera 48 Offshore Express, Freelance, has had no expense spared readying it for battle with the beasts that send the ill-prepared home, their tails between their legs. For the first time in years I found myself daydreaming of line-melting runs, black smoke, white water and testosterone.
(QuickSpecs)
RIVIERA 48 OFFSHORE EXPRESSPriced from: $1,017,000 (base model sans customisations and time of publication)
Material: GRP
Type: Planing monohull
Length overall: 15.8m
Beam: 4.9m
Weight: 26,400kg
Draft: 1.35m
Fuel: 5500lt
Water: 620lt
Engine: 2 x Caterpillar C18 turbo-diesel
Rated HP: 1018 (each)
From Trade-a-Boat Issue 428, June-July, 2012. Photos by Ellen Dewar; Jeff Strang; Murray Rix; Supplied.
---
Want the latest stories delivered straight to your inbox? Sign up for the free TradeBoats e-newsletter.