Review: Mercury Diesel TDI 265 repower on a Caribbean 26
---
The Mercury Diesel TDI 265 is a quantum leap forward in diesel sterndrive technology. We review a new engine setup on a repowered Caribbean 26.
My sea legs are pretty good. And thanks to my toxic diet I never get seasick. But when Bruce Vaughan opened the throttles of his repowered Caribbean 26 I found myself being thrown rapidly across the cockpit.
In anticipation of an exciting day I'd forgotten to hang on. My longtime co-reviewer Kim laughed at me — she had a better sense of what was going to happen than I did, so like photographer Bazz Ashenhurst she'd taken steps to prevent being thrown over the stern. Kimmi, you haven't caught me out yet on Facebook but I know next time you'll have your camera ready!
Fortunately there wasn't far to travel before meeting the engine box, but it happened a couple of times due to my grey cells not functioning as they should. That's what happens on the dark side of 50.
REPOWERED CARIBBEAN 26
Bruce had owned the 26 for a couple of years, when one of its existing 4.3lt petrols dropped a valve, so he contacted David and Philip Bailey of Cove Marine on Port Stephens about opting for diesel power. Bruce wanted engine longevity and considered various engines before settling on the Mercury TDI, not only because of its impressive torque output and reasonably light weight, but also because the engines could be shoehorned into the existing engine space.
The old 4.3 engine is 696mm long, 740mm wide and 559mm high, whereas the TDI 265 measures 925mm x 754mm x 762 mm. So Philip had to modify the engine bearers and box to accommodate the longer engines. The transom was strengthened with additional knees to handle up to 1000Nm per engine and the box was raised aft and extended forward. The cockpit floor ahead of it was cut and moved forward with such a good job done that the box and floor appeared to have been installed in the factory. No soundproofing was fitted to the box as Philip wanted as much airflow as possible around the engines without making the box too high.
Bruce told me the engines cost around $70K and the total conversion coming in at just under $100K. The 26 could be described as over-capitalised, but as Bruce intends keeping the boat for several years, and the new engines perform way better than the old units — owning the revitalised Caribbean 26 is more about enjoyment than expenditure.
PERFORMANCE
Like most current electronically-managed automotive diesels the TDI 265 starts instantly hot or cold, with no grey or black smoke appearing at any time. The idling vibration levels are similar to the 4.3, with slightly higher mechanical noise, but none of the traditional diesel rattle. Up to around 3000rpm the engines were slightly noisier than the 4.3s but not loud enough to be annoying.
As with other Bravo 3 drives fitted to small-block MerCruiser V8s I've driven, the 26 doesn't respond to the one ahead/one astern technique of spinning a boat on its own access. The answer is to use hard-over-helm, with both engines ahead or astern to spin the boat. The single-lever Mercury control boxes, with drive-by-wire DTS (Digital Throttle and Shift) made manoeuvring way easier than the absurd twin lever controls of the 4.3s.
Slipping along at 400rpm and 4.6kts the 265.6 engines used the same amount of fuel as a Mercury OptiMax 200 outboard when trolling and less than half of any comparable-output four-stroke outboard.
Even when accelerated quickly onto the plane the 265 engines didn't blow any black smoke (an indication of engine overloading and fuel over-supply) and minimum clean-planing speed in the Caribbean 26 corresponded directly to where peak torque is developed. With Bazz photographing the 26 during drive-bys from the innovative World Cat 29 camera boat supplied by Matt Ruwald, the only time we could hear the distinctive V6 exhaust beat was when the 26 came onto the plane. At higher speeds the TDI engines were no noisier than the 4.3s, with the whine of the two right-angle sterndrive gear sets being noisier than the turbochargers.
The Caribbean responded instantly to leg trim and once planing could be left in neutral trim until about 3000rpm. Through a tight figure of eight turns at this rpm no prop ventilation occurred and as with all Mercury sterndrives I've tested, the power steering was direct but not overly light. Just make sure you don't trim in the legs through tight turns as the lift generated by the twin sets of counter rotating props will lay the hull on its side. I know this having almost rolled a Mariner 43 sportsboat powered by Volvo Penta D6 Duoprops on Sydney Harbour once, when I trimmed in the legs through a high-speed turn, blissfully unaware of the consequences!
Above 3000rpm trimming the legs out lifted the bow and significantly reduced hull skin friction. All deep-vee hulls perform best with a fair amount of bow-up trim and above 3000rpm the 26 responded instantly to leg-out trim. And unlike other deep-vee hulls in this size range I've tested there was absolutely no need for trim tabs, as even with the wind blowing from our port or starboard bow the hull refused to lean into the wind. I must confess that with its wider waterline beam carried aft the Caribbean 26 is way more stable planing than the old Bertram/Caribbean 25.
According to Bruce the maximum speed the 26 could achieve with the 4.3s and a few adults aboard was 32kts at 4500rpm, the engines sucking down around 120lt/h combined. But at 3000rpm the TDI 265 engines returned 29.8kts sipping a mere 58lt/h combined and pushing seven adults!
Increasing the rpm to 3500 returned a 35.6kts average using 80.5lt/h combined, so it's not hard to see just how fuel efficient the 265.6 engines are compared to the old 4.3s.
Over the total of three hours testing, covering 36.2 nautical miles and averaging 12kts, the engines consumed 69.1lt combined, averaging just 23lt/h. Not bad for such a performance increase over the 4.3s!
HANDLING AND RIDE
Why the turbo-intercooled TDI 265 accelerates so rapidly is its shallow torque curve, giving plenty of grunt down low. The maximum torque of 566Nm is developed at 2250rpm, with 77 per cent of this figure being available at only 1400rpm. The massive torque only starts to drop significantly above 3000rpm, but even at the maximum rpm of 4200 it's still 80 per cent of the peak output.
The electronically-managed TDI 265 is based on the Audi Q7 diesel made by Volkswagen and has a 3lt 90-degree V6 powerhead. Like most diesels it's undersquare (or long-stroke) with a bore of 83mm and stroke of 91.4mm, but not so much that piston speed would be excessive at Wide Open Throttle.
Compare these figures to the 4.3lt 90-degree V6 MPI petrol sterndrives originally fitted to Bruce's 26. Each developed 220hp at 4400 to 4800rpm and drove through Alpha legs, amazingly not fitted with counter-rotation. So Bruce constantly had to play with the throttles to prevent the hull leaning to starboard due to the prop-steer torque. Mercury Marine is coy about supplying torque figures for the 4.3, but I estimate the maximum output to be around 350Nm at 3200rpm.
The 4.3 is a traditional cast iron oversquare petrol engine with bore of 101mm and stroke 88mm (it's a 350 V8 with two cylinders lopped off), but oddly for a moored boat Bruce's engines had raw-water cooling. Simply put this car-derivative engine (I believe originally fitted to a front-wheel-drive Oldsmobile in the sixties) ran too cold for longevity, whereas the freshwater (heat exchanger) cooled alloy 265 runs at similar temperatures to what it would in an automobile.
The dry weight is around 350kg with the Bravo 3 drives, while on an Alpha leg the 4.3 is 352kg dry, so not only do you get a lot more torque and power with the TDI 265, but it doesn't adversely affect fore and aft hull trim. The Bravo 3 legs have twin 25in pitch counter-rotating props.
MERCURY 265 TDI SERVICE INTERVALS

As with most current-model car engines an easily-removed plastic shroud completely shields the top of the engine. Underneath this is the oil filter canister, designed so when it's replaced oil won't dribble over the engine. The sump level dipstick is at the forward end of the engine, the coolant overflow tank and power steering reservoir to port and the water separating fuel filter with hand-prime pump (the injectors are normally self-bleeding) to starboard.
Right at the forward bottom of the engine is the seawater cooling pump and cooling water intake seacock under this, instead of having the intakes in the leg. The air intake cleaner is at the starboard aft end of the engine but still easily reached.
Servicing intervals are every 100 hours after the initial checkup at 20 and the TDI 265 is rated to a maximum of 500 hours per year, with one in every eight hours allowed at WOT.
THE WRAP
The technology apparent in the Mercury Diesel TDI 265 engines is light-years ahead of the 4.3s, which were sophisticated when originally released but are now just a bit tired!
Don't get me wrong, I still like petrol sterndrives for some applications, but Volkswagen is one clever manufacturer and combining with Cummins and Mercury Marine with its proven sterndrive technology has been a smart move.
The Caribbean 26 was supplied by Bruce and Donna Vaughan, with the repower conversion done by David and Philip Bailey of Cove Marine, Oyster Cove, NSW, phone (02) 4982 4832 or email: mail@covemarine.com.au
MERCURY DIESEL TDI 265 SPECIFICATIONS
TYPE: Electronic V6 turbo-diesel marine engine
DISPLACEMENT: 3lt
WEIGHT: 325kg
RATED HP: 265 at 4200rpm
MAX TORQUE: 566Nm at 2000rpm
PERFORMANCE
Twin Mercury Marine TDI 265, pushing approx 4.5 tonnes with seven adults aboard, low chop and average of two-way runs using an onboard Raymarine GPS and Mercury Marine SmartCraft fuel flow instrumentation
| | | |
| --- | --- | --- |
| RPM | SPEED | FUEL BURN |
| 400 (dead slow troll) | 4.6kts | 2.2lt/h |
| 1000 | 6.7kts | 4.6lt/h |
| 1400 (offshore troll) | 8kts | 12lt/h |
| 2000 | 16.8kts | 28lt/h |
| 2300 (clean plane) | 17.5kts | 36lt/h |
| 3000 (cruise) | 29.8kts | 58lt/h |
| 3500 (fast cruise) | 35.6kts | 80.5lt/h |
| 4000 (WOT*) | 39.5kts | 97.0lt/h |
* The engines reached 4200rpm briefly for better than 40kts. Fuel-burn figures are both engines combined. Performance figures supplied by the author.

1: Standard engine bearers before modification.

2: Engine bay wired and plumbed ready for engine installation.

3: Electrical isolation access.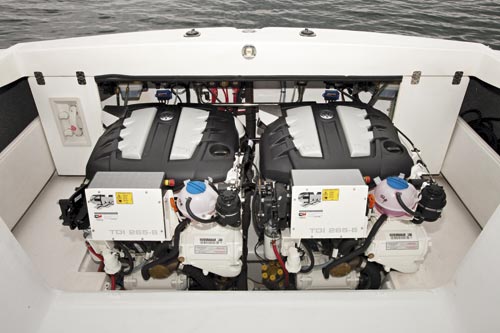 4: Finished installation. 

5: Bravo III installation complete.

6: Ready to go in the water.

New carbon-fibre dash with new gauges and controls, and one very happy owner.
---
---
---
Want the latest stories delivered straight to your inbox? Sign up for the free TradeBoats e-newsletter.